Getting a new atypical skin formation can be embarrassing and anxiety-inducing. Is it something mild or should you be looking for a deeper cause of the dermatological phenomenon?
These are normal questions that most people will ask whenever they get a skin tag, a mole or any other abnormal formation.
So, what exactly is a skin tag and is it the same thing as a genital wart? While the two look very similar, they're not one and the same thing.
What Are Skin Tags?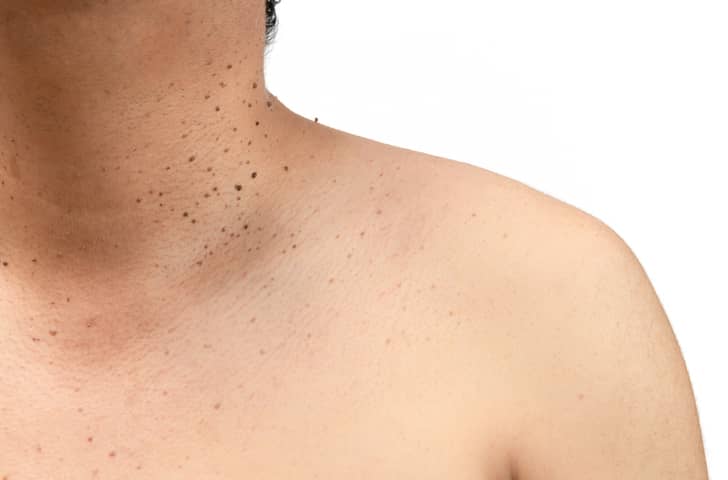 A skin tag is a tiny outgrowth that can appear on just about every part of the body. Usually, skin tags will appear in areas that feature fleshy folds like the neck or the armpits. They are painless, mild and they will not cause discomfort.
Skin tags are a common dermatological problem. Some research suggests about 50 to 60 per cent of people will get a skin tag in their lifetime. The appearance of tags is more common later on in life, after an individual has turned 40.
If you're getting a skin tag, you may be clueless about its appearance at first. Eventually, you'll feel the new growth because it protrudes from the skin. A tag will be the same colour as the rest of the skin or it may seem just a tiny bit darker.
The exact cause of skin tags is unknown. Some research suggests that genetic factors may be at play. The friction that forms in body folds could be another trigger that will eventually contribute to their appearance. People who have diabetes or insulin resistance are also at a higher risk of getting skin tags.
What Are Genital Warts?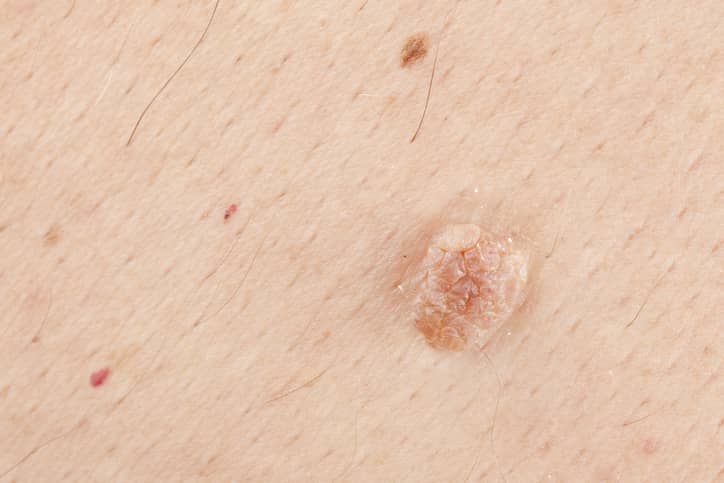 The first and most important thing you need to understand is that genital warts will usually appear in the genital or anal regions. They may appear as individual protrusions or an individual may get an entire cluster of such formations.
Just like skin tags, genital warts are harmless and they don't cause pain or discomfort. Do understand these aren't malignant formations that will eventually turn into cancer.
Warts feel like patches of rough bumps on the surface of the otherwise smooth skin.
The main cause of genital warts is an infection with the human papillomavirus (HPV). So in this sense, the skin formations are a symptom of the infection rather than a separate condition.
People could be infected for months or even years with HPV without getting genital warts. Eventually, a breakout can appear and the warts will form close to the genitals.
The human papillomavirus is quite contagious. You can get it from contact with an infected person. When you have the virus, you can also pass it on to a sexual partner.
How Are the Two Conditions Diagnosed?
Based on the descriptions of the two conditions, it becomes fairly easy to identify the cause.
A visual examination by a trained medical professional will usually be enough to determine whether you have skin tags or genital warts.
There are numerous human papillomavirus strains. HPV is the primary cause of cervical cancer. This serious condition is caused by a few high risk strains. The high risk types include HPV 16, 18, 31, 33, 34, 35, 39, 45, 51, 52, 56, 58, 59, 66, 68, and 70. Luckily, these varieties of HPV do not cause the appearance of genital warts.
About 90 per cent of all genital warts cases are caused by two viral strains – HPV 6 and 11. Thus, you can rest assured that the cause of your tags isn't going to contribute to a more serious health problem.
Keep in mind that a person, however, can be infected with more than one HPV strain. Thus, depending on the situation, a doctor may decide to do additional tests and determine which viral strains you have.
Are There Treatments?
Skin tags are addressed by dermatologists. If you have genital warts, you'll need to see a doctor who deals with STDs and knows how to address the viral infection causing these skin formations. Shim Clinic does genital warts treatment as well as a full panel of STD tests, contact us.
Dermatologists use a few methods to remove skin tags. Removal will be recommended if the tags are affecting a person's self-confidence or if they're leading to discomfort (getting stuck in clothing, tangled in hair, etc.).
Those who have genital warts may need antiviral medications. Keep in mind that HPV is an STD that can't be cured at the time being. Antiviral medications, however, can successfully eliminate the symptoms that are causing discomfort. The right medication will reduce the severity of the flare-up and shorten its duration.
If you get any skin formation on any part of the body, do see a doctor. You should be even more prudent if such abnormal protrusions affect your genital region. Various STDs can contribute to the appearance of warts, scabs, sores and other irregular formations. If you're not a trained professional, you'll find it very difficult to differentiate between those.
Do you have concerns about new skin formations in the genital region? Are you experiencing any other symptom? Contact Shim Clinic or visit us during working hours every day of the week for a thorough and fully confidential consultation.